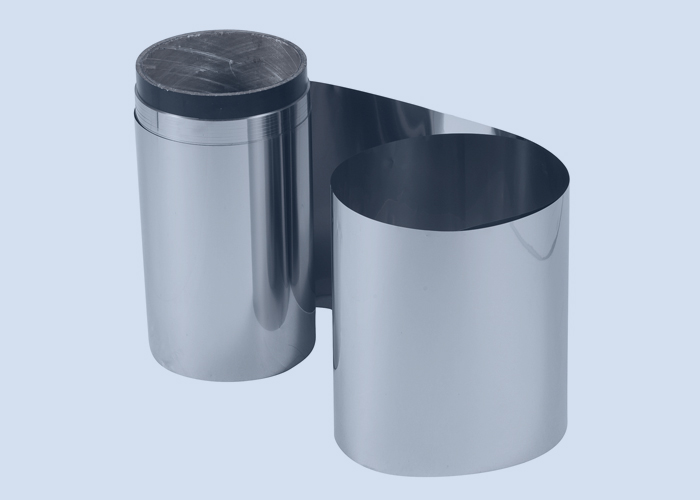 316L Stainless Steel Foil
316L stainless steel foil is almost identical to 316 grade strip foil. The 316L stainless steel foil corrosion resistance is better than 304 foil.
It is a type of high strength, corrosion resistance stainless steel foil, which contains 16% chromium, 10% nickel and 2% molybdenum and is used for applications that are exposed to high temperatures.
Hand-tear 316L strip is also called precision 316L stainless steel foils, which represents the advanced technology of China.
Whatever size at whatever tight tolerance of 316L stainless steel foil you demand, SEATHER here is sure to have it!
Specifications
Standards
Packaging & Shipment
Specifications
Product Name
316L Stainless Steel Foil
Grades
ISO X2CrNiMo17-12-2/EN 1.4404/UNS S31603/JIS SUS316L
Standards
ASTM, ASME, DIN, JIS, GB/T, etc.
Thickness
0.02mm-0.1mm
Width
1mm-1000mm
Edge
Slit/Round/Deburred
Quantity Tolerance
±10%
Paper Core Internal
Diameter
Ø 150mm, Ø300mm, Ø400mm, Ø500mm paper core, special internal diameter core and without paper core on
special request
Surface Finish
Mill/Bright/TR/Polishing/Annealing
Applications
Petrochemical equipment, reactor, Heat exchanger, Power plant flue gas desulfurization device, etc.
Packaging
Wooden pallet/Wooden case
Payment Terms
30% TT deposit and 70% balance before shipment, 100% LC at sight
Delivery Time
7-10 working days
MOQ
500 Kgs
Shipping Port
Shanghai/Ningbo port
Sample
The sample of 316L stainless steel foil is available
Remark
316L stainless steel foils can be customized
Standards
Packaging & Shipment
316L Stainless Steel Foil Supplier & Manufacturer
When it comes to 316L stainless steel foils manufacturing process from mother coils to the end products, here you can find complete solutions.
The quality stainless steel foils that we produce are exceptionally flat, super thin, up to 600mm width, and manufactured to the tightest tolerances for end users precision demand usage.
Seather's factory owned advanced processing production lines which can support you stainless steel foil project with competitive price and good service. We have powerful manufacturing capability, our twenty-high roll sendzimir mill, continuous bright annealing oven, tension leveller, slitting machine lines, edge trimmers and packaging lines.
We are able to support every different stainless steel foil regardless of the samples or mass production. And you do not worry about the after-sales service and the cargo prime quality.
316L Stainless Steel Foil Chemical Composition
The chemical components of grade 316L stainless steel foil is summarized in the following table:
| | | | | | | | | | |
| --- | --- | --- | --- | --- | --- | --- | --- | --- | --- |
| Grade | Standard | C | Si | Mn | P | S | Cr | Ni | Mo |
| 316L | ASTM A240 | ≤0.03 | ≤1.00 | ≤2.00 | ≤0.045 | ≤0.030 | 16.00-18.00 | 10.00-14.00 | 2.00-3.00 |
316L Stainless Steel Foil Mechanical Properties
Grade
Tensile Strength (MPa) min
Yield Strength 0.2% Proof (MPa) min
Elongation (% in 50 mm) min
Hardness
Rockwell B (HR B) max
Brinell (HB) max
316L
485
170
40
95
217
Your Reliable 316L Stainless Steel Foil Manufacturer In China
316L Stainless Steel Foil: The Ultimate Guide
When you choose to buy quality 316L stainless steel foil, there have some important points we need to know before we get started.
What are 316L Stainless Steel Foils?
316L ultra thin stainless steel foil is a typical austenitic Cr-Ni stainless steel.
It has good corrosion resistance and excellent mechanical properties, especially intergranular corrosion resistance.
The alloy has good pitting corrosion resistance and is suitable for use in media with halide ions present.
It is not suitable for use in media with high concentrations of iron ions (more than 0.2%) because it is easy to produce chromium-rich ferrite during heat treatment, which reduces the corrosion resistance of the alloy.
316L ultra thin stainless steel foil can be applied to equipment in the sea and chemical industries, such as petrochemical, fertilizer, seawater desalination, etc.
What are the applications that 316L stainless steel foil can be used?
Automotive
Surgical instruments
Architecture
Heat treating
Precision electronical parts
Solar and alternative energy
Other Precision Parts
Features of 316L stainless steel foil
Corrosion Resistance:
The corrosion resistance of 316L stainless steel foil is better than 304 stainless steel foil, and it has good corrosion resistance in the production process of pulp and paper industry. And 316L stainless steel foil is also resistant to the erosion of the ocean and corrosive industrial atmosphere.
Heat Resistance:
In the intermittent application below 1600 degrees, 316 stainless steel strip foil has good oxidation resistance.
316L stainless steel foil has better resistance to carbide precipitation than normal 316 grade stainless steel.

Talk to an Expert
Discuss Nickel Alloys, Stainless Steels, and Raw Materials and Custom Alloy Fabrication Components for Your Industrial Project
Looking For A Trust 316L Stainless Steel Foil Manufacturer?
Contact us today and we'll put together a quote tailored to your needs.