As a leading China stainless steel foils supplier, SEATHER manufactures and produces different sizes and grades of stainless steel foils.
The stainless steel foils are the extension products of ultra-thin stainless steel coils, usually long and narrow stainless steel foils are manufactured to meet the demands of various industrial and mechanical areas.
The stainless steel foils is also called narrow stainless steel rolls. The maximum width of its size shall not exceed 650mm, but the length of each foil is not limited.
Whatever size at whatever tight tolerance of stainless steel foils you demand, SEATHER here is sure to have it!
Specification
Packaging & Shipment
Specification
Product Name
Stainless Steel Foils
Grades
Austenite steel 301, 304, 321, 316Ti, 316L, 304L, 304, 309S, 310S, 347, 317L, duplex and super stainless steel 2205, 2507, F53, 2101, 2304, 904L, S31254, S32654, S30815, 926, etc.
Standards
ASTM, ASME, DIN, JIS, GB/T, etc.
Thickness
0.02mm-0.1mm
Width
5mm-650mm
Edge
Slit/Round/Deburred
Quantity Tolerance
±10%
Paper Core Internal
Diameter
Ø 150mm, Ø300mm, Ø400mm, Ø500mm paper core, special internal diameter core and without paper core on
special request
Surface Finish
Mill/Bright/TR/Polishing/Annealing
Applications
Stainless steel foils are ideally suited for a wide range of industries that require high-performance materials, including aerospace, marine, chemical processing, nuclear power generation and oil&gas production
Packaging
Wooden pallet/Wooden case
Payment Terms
30% TT deposit and 70% balance before shipment, 100% LC at sight
Delivery Time
7-10 working days
MOQ
500 Kgs
Shipping Port
Shanghai/Ningbo port
Sample
The sample of stainless steel foil is available
Remark
Stainless steel foils can be customized
Packaging & Shipment
304L Stainless Steel Foil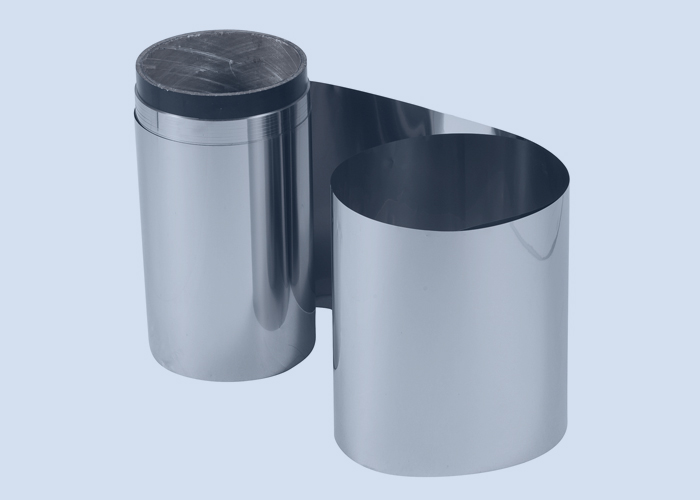 316L Stainless Steel Foil
Stainless Steel Foils Materials & Grades
High quality custom stainless steel foils are made from below prime stainless steel coils materials, such as:
Austenite steel 301, 321, 316Ti, 316L, 304L, 304, 309S, 310S, 347, 317L, Precipitation Hardening 17-4, 17-7, Duplex and super duplex stainless steel 2205, 2507, F53, 2101, 2304, Special stainless steel 904L, S31254, 1.4529, 926, etc.
Stainless Steel Foils Production Process
Technical Analysis
Raw Material Preparation
Rolling And Bright Annealing Process
Degrease Cleaning Process
Tension Straightening Process
Slitting Process
Inspection Process
Packaging Process
Your Reliable Stainless Steel Foils Manufacturer In China
Stainless Steel Foils: The Ultimate Guide
When you choose to buy custom made stainless steel foils, there have some important points we need to know before we get started.
What are Stainless Steel Foils?
Stainless steel foils are thin strips of stainless steel that are less than 0.1 mm in thickness and less than 650 mm in width.
Stainless steel foils offer a variety of advantages, including chemical stability, high strength-to-weight ratio, electrical insulation and corrosion resistance.
Stainless steel foil is used in the production of heat exchangers, capacitors and fuel cells; as well as in medical equipment and food processing machinery.
Stainless steel foils are a versatile material with many advantages. Its high corrosion resistance, good thermal and electrical conductivities and its ductility makes it an excellent choice for a wide range of applications.
Stainless steel foil is available in several different grades. These include austenitic series, ferritic series, martensitic series, duplex and super duplex series. Each grade has different alloying elements that contribute to the properties of the foil.
The most common grades of stainless steel foils are 301 and 304. These grades are supplied in thicknesses ranging from 0.02mm to 0.1mm. Other grades of stainless steel foil are also available upon request including 316L, 430 and duplex 2205.
Stainless Steel Foils Applications
Here are a few common uses for stainless steel foils:
The food business and kitchen items like sinks, plating, and appliance parts.
Construction/Building materials, such as architectural trims, heat exchangers, agricultural equipment, medical devices, beverage packaging, automobiles, and springs for precise mechanisms and devices, such as circuit boards and electronic components, and ship components, all fall under this category.

Talk to an Expert
Discuss Nickel Alloys, Stainless Steels, and Raw Materials and Custom Alloy Fabrication Components for Your Industrial Project
Looking For A Trust Stainless Steel Foils Manufacturer?
Contact us today and we'll put together a quote tailored to your needs.